Pro tip: Follow @SpagsBar on Facebook, Instagram and Google+ to find limited time specials!
Carryout Special: Sunday-Thursday
Holiday Gift Card Promo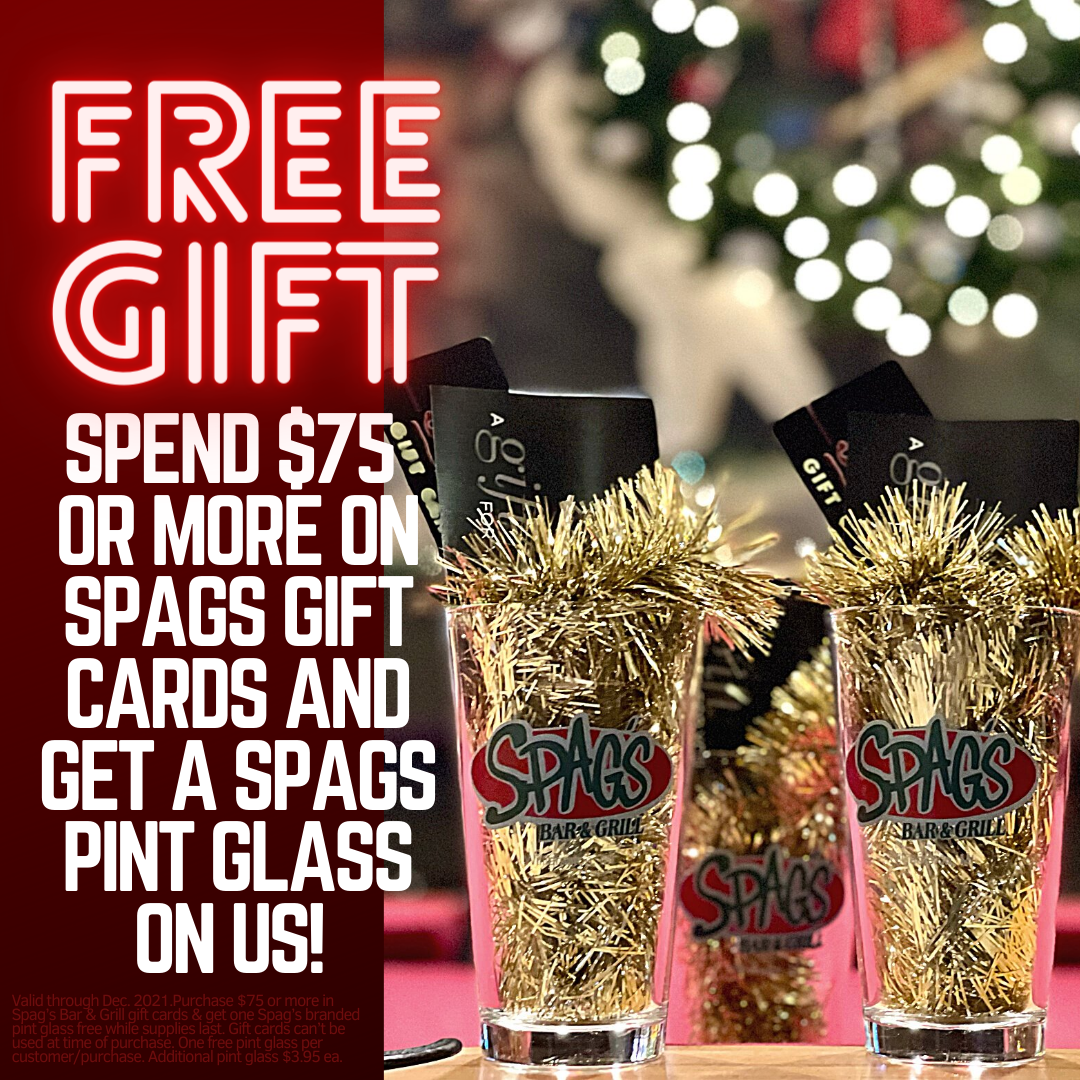 Sunday: Pizza & Pitcher 
Your choice of a 12″ pizza with two regular items -OR- a large order of Macho Nachos served with one pitcher of pop for $12.99 or one pitcher of Budweiser, Bud Light or Miller Lite for $16.99.
$1 off all alcoholic drinks all day!
Special for dine-in only.
Wednesday: Burger Night
Build a burger with your choice of three toppings. Served with steak fries or onion rings.  $8.99
$1.00 – Retro Beer Cans
$3.75 – Specialty Long Islands
Spag's Long Island – 3 liquors, Amaretto, sweet & sour, Coke and a cherry
Long Beach – 4 liquors, cranberry juice, sweet & sour and Sprite
Georgia Peach – 3 liquors, Peach Schnapps, sweet & sour and Sprite
Black & Blue – 3 liquors, Blue Curacao, sweet & sour and Sprite
Caribbean – 5 liquors, pineapple juice, orange juice and grenadine
Specialty long islands are for dine-in only.
Thirsty Thursday
$2.75 – 25oz. Budweiser, Bud Light, Miller Lite, Killians, Labatt
$4.75 – 25oz. Seasonal drafts
Thursday beer specials for dine-in only.
Happy Hour
$1 off alcoholic bevvies
Sunday: All Day
Tuesday – Friday: 4 p.m. – 6 p.m.